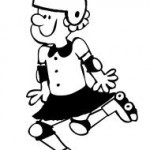 The Carolina Rollergirls storm Dorton Arena as part of this Saturday's "Got To Be NC" Derby Expo.  The Rollergirls will add their match to a great lineup of activities at the North Carolina State Fairgrounds in Raleigh, NC.
Last year, this event packed the arena with exciting matches and great competition.  This year, the expo features six matches, with the doors set to open at 10 AM.
You can learn more about the event and get tickets by clicking here.