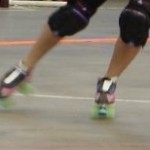 A recent in depth article in  SBNation.com about the rise of womens' flat track derby featured Greensboro North Carolina's Gate City Rollergirls.  The article, a great example of long form journalism, followed the Rollergirls in order to show how this sport is helping to define the role of womens' sports today.
You can read the article here.
Learn more about the Gate City Rollergirls here.