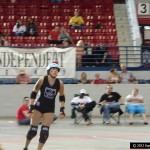 The Gunnison Valley Roller Girls enjoy strong regional support and as part of the upcoming 10th Mountain Roller Girls event in Crested Butte, the local paper, The Crested Butte News, published a handy guide to help first time attendees know how to follow the action.
Click here to read their article.
The event is at the Big Mine Ice Arena and starts this Saturday (June 7) at 6:00 PM.