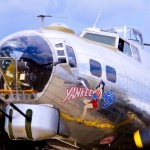 Many of today's skaters may never have heard of the movie, Kansas City Bomber.
This classic film featured Raquel Welch as a banked track skater and introduced the country to what had been, up to that date, an obscure sport that was treated much the same as professional wrestling.
The poster for the movie proclaimed Ms. Welch as "the hottest thing on wheels"!
It's available as a Netflix rental.