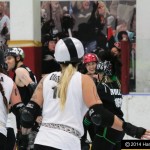 Eight San Francisco area roller derby teams are banding together to sponsor the "Make 'em Bleed" blood drive.
Beginning on August 9 and running through mid-October, the blood drive, one of the most successful in California, will promote donations thru personal appearances, autographs and giveaways.
Last year over 600 San Franciscans stepped up and donated.
Click here to learn more.