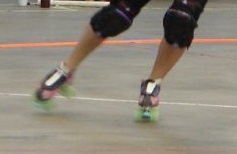 We rarely get to actually meet our roller derby team customers, so we really enjoyed the chance to learn a little about Minnesota Roller Derby when they appeared on Fox 9 TV.
In preparation for their run to the title, four skaters showed up ready to skate for an on camera interview on Fox 9's Morning Buzz.
They gave some tips on how new fans can watch derby and provided a brief introduction to the rules.
Best of luck to Minnesota Roller Derby this season.
GoodBuyGuys.com is your "go to" source for all the tape products you need to set up a roller derby track
Harrison Bros. Inc.
GoodBuyguys.com
47 N. Chatham Pkwy.
Chapel Hill, NC 27517
Voice tel: +1-800-327-4414
Local tel: +1-919-968-0241
Fax tel: +1-800-327-4414
Email sales@harrisonbros.com